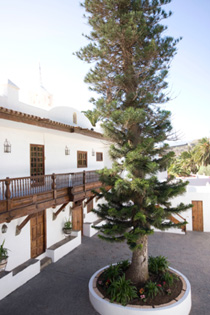 Cortijo San Ignacio patio area
Cortijo San Ignacio Golf Hotel:
Facts & Figures

Accommodation:
The hotel has 16 double rooms and 2 single rooms all with private bathroom, hairdryer, closet or cupboard, TV and safe-deposit box. All of the rooms overlook the courtyards, gardens or golf course.
The rooms are large and spacious and decorated with attention to details. The bedrooms atmosphere respects the details and style of the age, most notably the wrought-iron headboards and antique furniture. There is free wireless lan conection (WI-FI) in all rooms of the hotel.
Accommodation Amenities:
• Free WiFi connection
• Satellite LCD TV
• Non-smoking rooms
• Cot
• Shower and Bath
• Hair Dryer
• Safe
Facilities:
• Multilingual staff
• TV room
• Games room
• Laundry
• Self - service Pool bar
• Free parking
Communal Areas
The hotel's quiet living room atmosphere invites guests to relax, chat, read or simply listen to background music, in a delightful environment.

Next to the living room there is a gallery with large windows with a game table area to play cards and board games. There is also a wealthy area with garden views.

There is a splendid chapel, situated in one of the eaves of the residence, where weddings, Baptism and First Communion have been held of the majority for the members of the hotel's extended family.

The Hotel offers Wireless Internet connection (Wi-Fi) without charge.
Outdoor Facilities:
The building has 2 entrances: a back one, inspired with an Andalusian style and the main one with a strong canarian style: with a typical wooden balcony making the front into an outdoor museum. The back reception main door is sourrounded by Indian Laurels, these crowns grow to form a natural sunshade. This access is decorated in yellow and ochre tones respecting the typical andalusian house (cortijo).

The courtyard of the Araucaria, an emblematic tree for the family, with a fountain with a non-stop relaxing sound of the water fall. In ancient times, it used to be a source for horses' thirst.

Its large pool is in the middle of a tropical garden full of vegetation with tall palm trees. It also has a great porch with bar-lounge area, where you can relax and enjoy a snack.
Golf:
El Cortijo Golf Club
Paddle & Tennis Facilities:
El Cortijo Club de Campo also offers unbeatable tennis facilities with 5 courts of fast surface (Decoturf) and 6 of clay. Guests can book any of the 14 Paddle, 10 glass and other 4 wall courts available for paddle tennis. All of the courts, (tennis and paddle) can be illuminated at night.Equestrian Facilities:
Amongst the sports facilities, the riding center a highlight. With 5 Tracks for dressage and jumping, 65 boxes (53 fixed and 12 mobile), 10 showers and a modern children's Pony Club, this is one of the most modern facilities in Gran Canaria.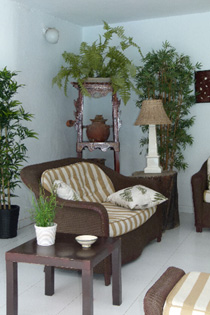 Relax in the cosy living area in the Cortijo San Ignacio
Restaurants and Bars at Cortijo San Ignacio:
The resorts offers 3 different restaurants within the same complex, where you will be able to enjoy lunch or dinner.The main dining room reflects one of the best examples of beams and coffered ceiling and tea wood floors of this stunning house. A solid table with its set of chairs dominates the dinning area.
Nearby:
Museums and Historical Sites :
• Barrio de Vegueta (6 km)
• Centro Atlántico de Arte Moderno (6 km)
• Mueso Néstor (8 km)
• Casa Colón (6 km)
• Museo Canario (6 km)
• Museo Elder de la Ciencia y la Tecnología (15 km)

Cities and towns of Interest:
• Las Palmas de Gran Canaria (6 km)
• Telde (3 km)
• Teror (26 km)
• Arucas (23 km)
• Puerto Mogán (65 km)

Shopping:
• Shopping area Triana (6 km)
• Shopping center Las Terrazas (3 km)
• Shopping area San Juan de Telde (2.5 km)

Beaches :
• Maspalomas Beach (43 km)
• Las Canteras Beach (19 km)
• Melenara Beach (5 km)
• San Agustín/Las Burras Beach (35 km)

Archeological Heritage:
• Cenobio de Valerón (32 km)
• Cueva Pintada de Gáldar (39 km)
• Roque Bentayga (48 km)
• Cuatro Puertas (10 km)
• Fortaleza de Ansite (45 km)
Nearby Activities:
• Guided Hikes
• Tours on mountain or road bikes
• Kite Surfing
• Surfing
• Windsurfing
• Diving
Menu:
Breakfast included. Half board available.
Location:
3 km from the ocean and 7.5 km from the airport
Golf offers:
Golftenerife-grancanaria.com offers reduced rates for their clients on Anfi Tauro Golf, Real Las Palmas (Bandama), El Cortijo Golf Club, Maspalomas Golf Club, Meloneras Golf, and Salobre Golf.