Jardin Tecina Hotel
San Sebastian, La Gomera
Official rating: 4 stars
The Hotel Jardín Tecina is located on the magical island of La Gomera in the Canary Islands. It stands on a cliff overlooking the Atlantic Ocean and the neighboring island of Tenerife with its majestic Mount Teide. Situated very close to Tecina Golf, the hotel is surrounded by a huge lush garden. More than 50 species of plants and flowers from all corners of the world contribute to the creation of this wonderful paradise. The hotel is integrated into the environment, in the form of comfortable bungalows designed in Canarian style, ensuring maximum privacy of rooms and suites, from which only the sound of birds singing and the gentle whisper of the sea can be heard.The Hotel Jardín Tecina is the ideal place for those seeking a healthy and rejuvenating holiday.
CLOSURE OF HOTEL FOR RENOVATION:
Jardin Tecina Hotel will close from 12 April-5 November 2023 for renovation of all rooms including refurbishment of bathrooms, new interior decoration, refurbishment of paths and exterior areas of the hotel, refurbishment of the bar lounge and common areas on the ground floor, and to increase the number of junior suites.
Especially recommended for:
Couples, foursomes, golfing groups and societies, families
Resort Golf:
 Tecina Golf is an 18 hole golf course located on-site. 
Golf Tenerife-Gran Canaria's Jardin Tecina Golf Packages:
7 nights in a standard double room at the 4-star Jardin Tecina Hotel on La Gomera, breakfast and dinner daily (served in the buffet restaurant), 5 golf rounds of 18 holes on Tecina Golf, plus Fast Ferry Fred Olsen Express (Los Cristianos, Tenerife-San Sebastian de la Gomera and return):
1-23 Dec/22: 1038 euros
24 Dec/22-4 Jan/23: 1517 euros
5 Jan-9 Apr/23: 1132 euros
10-30 Apr/23: 1038 euros
Prices are per person based on 2 sharing

Early Booking 90 days prior to arrival day:
5 Jan-9 Apr/23: 1057 euros
10-30 Apr/23: 974 euros
Prices are per person based on 2 sharing

5 nights in a standard double room at the 4-star Jardin Tecina Hotel on La Gomera, breakfast and dinner daily (served in the buffet restaurant), 3 golf rounds of 18 holes on Tecina Golf, plus Fast Ferry Fred Olsen Express (Los Cristianos, Tenerife-San Sebastian de la Gomera and return):
1-23 Dec/22: 716 euros
5 Jan-9 Apr/23: 786 euros
10-30 Apr/23: 716 euros
Prices are per person based on 2 sharing

Early Booking 90 days prior to arrival day:
5 Jan-9 Apr/23: 744 euros
10-30 Apr/23: 679 euros
Prices are per person based on 2 sharing

3 nights in a standard double room at the 4-star Jardin Tecina Hotel on La Gomera, breakfast and dinner daily (served in the buffet restaurant), 2 golf rounds of 18 holes on Tecina Golf, plus Fast Ferry Fred Olsen Express (Los Cristianos, Tenerife-San Sebastian de la Gomera and return):
1-23 Dec/22: 473 euros
5 Jan-9 Apr/23: 516 euros
10-30 Apr/23: 473 euros
Prices are per person based on 2 sharing

Early Booking 90 days prior to arrival day:
5 Jan-9 Apr/23: 492 euros
10-30 Apr/23: 452 euros
Prices are per person based on 2 sharing
Book Jardin Tecina Hotel Package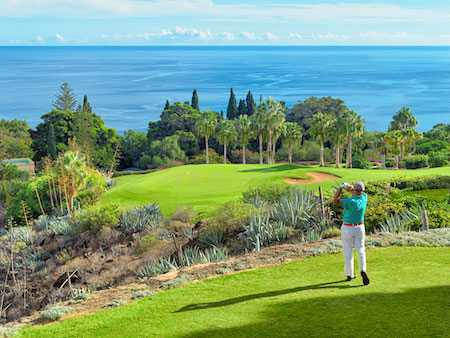 Golf Offer:
Golf Tenerife- Gran Canaria offers reduced green fees on Tecina Golf for all cients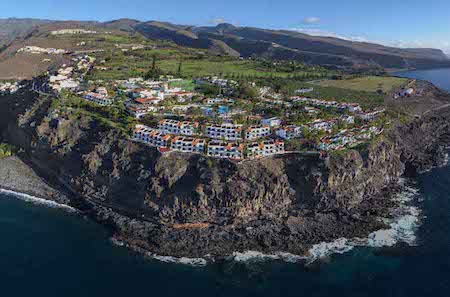 TECINA GOLF GREEN FEES