Tecina Golf with Mount Teide in the background
Tecina Golf: Facts & Figures
18 holes, par 71
Designer:
Donald Steel

White - 6291 m
Slope 121, VC 72.9

Yellow - 5810 m
Slope 120, VC 70.3

Red - 5279 m
Slope 121, VC 72.8
Handicap Restrictions:
Ladies and Men 36. Green card holders can play from 13.00h onwards
Facilities at Tecina Golf:
Club House, driving range, putting green, chipping green
Tecina Golf Location:
The island of La Gomera is a short ferry ride from Los Cristianos on Tenerife and the ferry runs 3 times a day and takes vehicles. We can arrange the ferry tickets at the same time as your golf tee times.
Tecina Golf
La Gomera, Canary Islands, Spain
(by ferry from Los Cristianos, Tenerife)

Tecina Golf course, located on the island of La Gomera, was designed by Donald Steel. The course has spectacular views of the Tecina valley and the Atlantic Ocean with the majestic Mount Teide in the distance. You must drive over the Tapahuga ravine for a tough par three on the 169-metre 4th, while the 337-metre 10th has the tee positioned 45 metres above the level of the green, offering players an unforgettable panorama of the Lomada de Tecina with the Atlantic as a backdrop. There are no buildings of any kind on the course.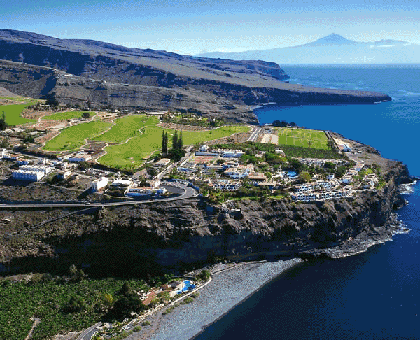 Tecina Golf has spectacular views of the Atlantic

Discount Green Fees & Book Tee Times
We offer our clients guaranteed tee times with discount green fees on Tecina Golf Club on La Gomera Island. We can also arrange ferry tickets.

Green Fees

Book Tee Times
Resort Accommodation: Jardin Tecina Hotel
Tecina Golf Location Map:
Get a price quote for a golf holiday including Tecina Golf

Back to Tenerife and La Gomera Accommodation